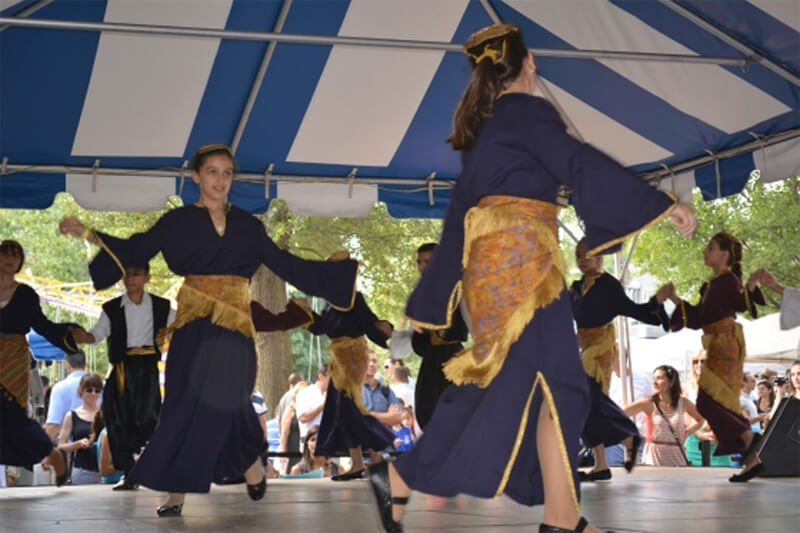 Live Folk Dance Performances – Live entertainment is the centerpiece of the festival atmosphere and takes place on two outdoor stages. The main tent is filled with the sounds of the mandolin-like bouzouki, and dance performances are scheduled throughout the weekend. Traditional Greek folk dancing is presented by Holy Trinity's youth, ages 5 to 25, who dance, sing and play the instruments of their ancestral villages.
Although folk songs and dances have been passed down through the generations, they are a "living" art and are still performed at weddings, baptisms and other social events. Folk dancing for the Greeks is truly an expression of everyday life, and each dance has a story. Our young people are very proud to share this part of their heritage with you. Don't be shy – you might be encouraged to jump onstage and learn a few steps. Opa!
The festival dance and band schedule will be posted at each stage
PERFORMANCE SCHEDULE
Thursday

5:00 PM – 8:00 PM

Saturday

11:00 AM – 9:00 PM

Sunday

12:00 PM – 6:00 PM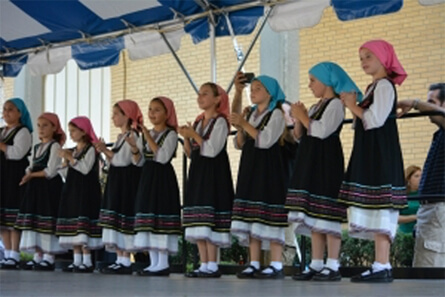 Live Music by "The Fabulous Grecian Keys" – Step under the main outdoor tent and listen to the sounds of The Fabulous Grecian Keys from Ohio. Their repertoire of both folk and modern Greek music is truly the centerpiece of the festival atmosphere. Throughout the weekend, the tent and festival grounds will be filled with their soulful voices and the distinct sound of the lively, mandolin-like bouzouki.
New this year is the addition of a second live band, Endasi, which will stroll the indoor and East Blvd stages as well accompany folk dance performances.
NEW THIS YEAR
Konitsa's Hangout – Enjoy watching a collection of Greek movie clips, concerts and other entertainment events from the 60's 70's, 80's and 90's on wide screen TV.   Bring your Greek coffee and favorite Greek pastry and relax while you watch some of Greece's most popular actors, singers, dancers and comedians.  A collection of ancient artifacts and memorabilia will also be on display for your viewing pleasure.   Konitsa's Hangout is part of the Festival Cultural Center, located in the lower level of the educational building.