Experience The Lively Greek Culture
From dance performances and live music to shopping, cultural events, and a kids' playland, the Yiasou Greek Festival has something for each member of the family. Live entertainment is the centerpiece of the festival; listen to nationally known Greek bands; view dance performances and cultural reenactments from members of the Greek community; attend our lectures and learn about Greek history.
Folk Dancing And Live Music
Live entertainment takes place on two outdoor stages. The main tent is filled with the sounds of the mandolin-like bouzouki, and dance performances are scheduled throughout the weekend. Traditional Greek folk dancing is presented by Holy Trinity's youth, ages 5 to 25, who dance, sing and play the instruments of their ancestral villages.
Although folk songs and dances have been passed down through the generations, they are a "living" art and are still performed at weddings, baptisms and other social events. Folk dancing for the Greeks is truly an expression of everyday life, and each dance has a story. Our young people are very proud to share this part of their heritage with you. Don't be shy – you might be encouraged to jump onstage and learn a few steps. OPA!
Step under the main outdoor tent and listen to the sounds of "The Fabulous Grecian Keys" from Ohio. Their repertoire of both folk and modern Greek music is truly a centerpiece during the festival. The band "Endasi" will stroll the indoor and East Boulevard stages as well accompany folk dance performances.
Performances:
Thursday, 5:00 PM – 8:00 PM, Friday 5:00 PM – 9:00 PM, Saturday 11:00 AM – 9:00 PM, Sunday 12:00 PM – 6:00 PM (Dance and band schedules will be posted at each stage)
Shopping
The highly anticipated shopping experience at the Yiasou Festival is one of the many highlights each year. You'll find a wide selection of unique items from Greek inspired jewelry, to religious books, to beautiful paintings of Greek landscapes. Come and browse the many shops and discover some fantastic finds to take home or give someone as a gift.
Historical Lectures, Exhibits & Live Reenactments
Evzone – The Yiasou Festival Evzones of Holy Trinity – Come marvel in the reenactment of the changing of the guards by the men of Charlotte's Greek community. This inaugural group of Evzones is committed to preserving and celebrating the tradition of the presidential guards, an elite unit of the Greek army which guards the Tomb of the Unknown Soldier, in front of the Hellenic Parliament building, and the Presidential Mansion in Athens, Greece. The costumes of Holy Trinity's Evzones are a replica of the uniforms worn by the Evzones in Greece. The uniform consists of the kilt-like foustanella, which has 400 pleats to represent 400 years of Turkish occupation and red leather clogs, which weigh over seven pounds. Each uniform is specially made in 80 days by trained craftsmen and is considered to be one of the most unique ceremonial military attire in the world.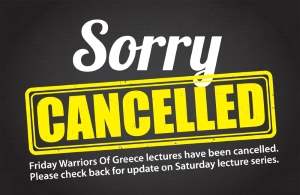 Warriors of Greece – A Living History reenactment group dedicated to preserving the memory and ideals of the brave Greek Warriors who have defended Western Democracy and freedom for over 4,000 years. The Warriors of Greece and affiliates have been seen in parades, festivals, movie promotions and other public appearances all over the United States as well as on the History Channel, the Discovery Channel, Spike TV, the Military Channel, the BBC and others. They are also available for school presentations for audiences of all ages! Come see live Spartan Hoplite Warriors from 500 B.C. dressed in their trademark blood-red cloaks & tunics patrolling the festival grounds wearing authentic bronze armor and guarding the gates carrying real iron weapons. Ask them questions or even have your picture taken with one! Come to The Warriors of Greece Room downstairs and learn more about how their courage and skill in fighting saved Greece and all of Western Europe from tyrannical enslavement under the mighty Persian Empire of the East at the famous battles of Thermopylae, Marathon, Salamis and Platea during the Greco-Persian War. Freedom and Long Live Greece! Molon Labe.
Wine Tastings And Cooking Demonstrations
Greek Wine Tastings – Visit the wine tasting booth for a sampling of some of Greece's finest wines and a crash course in the varietals of one of the oldest wine producing regions of the world.
Cooking Demonstrations – For the second year in a row, some of the best Greek cooks in the community will host live cooking demonstrations, during which they share their secrets of beloved family recipes from Our Ladies Society of Philoptochos award winning cookbook.
Cooking Demonstrations Schedule 2018
Location: Cultural center, upper level
Friday 12:00 noon – Kourambiedes (Greek Wedding Cookie)
Friday 6:00pm – Pastichio (Cheese, Pasta & Meat Casserole)
Saturday 1:00pm – Spanikopita Triangles – (Cheese & Spinach Pie)
Saturday 3:00pm – Kourambiedes (Greek Wedding Cookie)
Saturday 5:00pm – Avgolemono Soup (Egg & Lemon Chicken Soup)
Saturday 7:00pm – Avgolemono Soup (Egg & Lemon Chicken Soup)
Sunday 4:00pm – Koulourakia (Butter-based Pastry)
Other Popular Attractions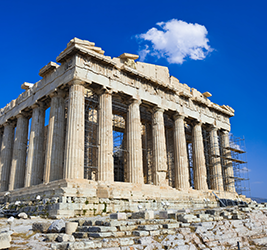 Win A Trip To Greece
Purchase your raffle tickets during the Yiasou Greek Festival to win two (2) round-trip flights from Charlotte to Athens, Greece. Come by the Showmars tent just inside the festival gates to purchase your tickets, $2 each, $5 for three, or $10 for 10. You do not need to be present to win. Drawing will be held at 5pm, September 8, 2019.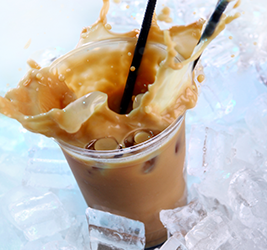 Traditional Greek Coffee & Frappes
Come to the Kafeneio tent and enjoy a pastry and Greek coffee or frappes while listening to the band. Greek coffee has a robust flavor and is served with grounds in the cup that settle as the coffee is slowly sipped.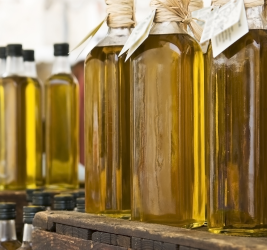 Bakaliko
Here you will find everything you need to stock your very own Greek kitchen. Purchase packaged Greek delicacies such as dolmades, spanakopita, tiropita, pastichio, olives, olive oil, wine, coffee, tea and oregano.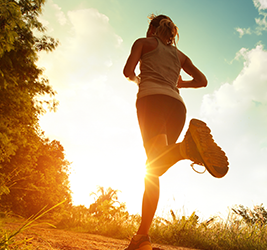 Yiasou Greek Festival 5K – August 24, 2019
Holy Trinity Greek Orthodox Cathedral partners with Run For Your Life to host this race and promote the Yiasou Greek Festival. The Churches GOYA (Greek Orthodox Young Adults) come out on race day and volunteer, making sure everything runs smoothly. The mission of GOYA is to provide 6th through 12th graders the opportunity for fellowship, service, witness and worship with one another.
REGISTER NOW Holy Trinity Greek Orthodox Cathedral
600 East Boulevard
Charlotte, NC 28203
704-334-4771

September 5-8, 2019

Thursday: 11am-9pm
Friday – Saturday: 11am-10pm
Sunday: 12 noon-6pm Festival admission $3.00
Children 12 and under are admitted free, accompanied by a parent or guardian
No pets allowed except service dogs