Join Us At The Yiasou Greek Festival
Holy Trinity Greek Orthodox Cathedral
600 East Blvd, Charlotte, NC
Food, Entertainment & Fun For The Whole Family. The Yiasou Greek Festival began in 1978 and since then has become one of Charlotte's largest cultural events. It is eagerly anticipated by the Charlotte community each year. The Yiasou (the Greek word for Hello, Goodbye and Cheers) Greek Festival features Hellenic cultural exhibits, authentic Greek cuisine and homemade pastries, entertainment, live music and dancing, wine tastings, art, shopping and more. Experience the sights and sounds of Greece when you visit the Annual Yiasou Greek Festival. It's a time of the year when everyone can be Greek!
Festival Advertising Sponsorship Program
Holy Trinity Greek Orthodox Cathedral is offering an Advertising Program which will allow your company to participate as a sponsor for the Yiasou Greek Festival.
Festival Flyer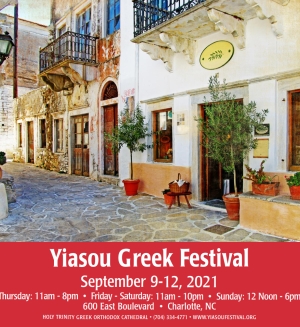 Become A Patron of the Yiasou Greek Festival
We are offering each member of Holy Trinity the opportunity to make a contribution in the amount of $50.00 as a PATRON of the Yiasou Greek Festival.
Your Help Is Needed. Please Volunteer Today!
How To Get To The Festival
CATS/Bus/Lynx Light Rail – The Festival is less than a mile from the East/West Boulevard Lynx station.
In partnership with the Charlotte Housing Authority (CHA) at 400 East Boulevard in Charlotte, Yiasou Greek Festival patrons and volunteers may park free at the CHA surface lot (NOT in the parking deck) after 5:00 PM Friday, all day Saturday, and all day Sunday.
Side street parking is available on nearby Dilworth neighboring streets, adhere to posted parking guidelines. And, please do not block any driveways. Holy Trinity Greek Orthodox Cathedral
600 East Boulevard
Charlotte, NC 28203
704-334-4771

September 9-12, 2021

Thursday: 11am-8pm
Friday – Saturday: 11am-10pm
Sunday: 12 noon-6pm Festival admission $5.00
Children 12 and under are admitted free, accompanied by a parent or guardian
No pets allowed except service dogs